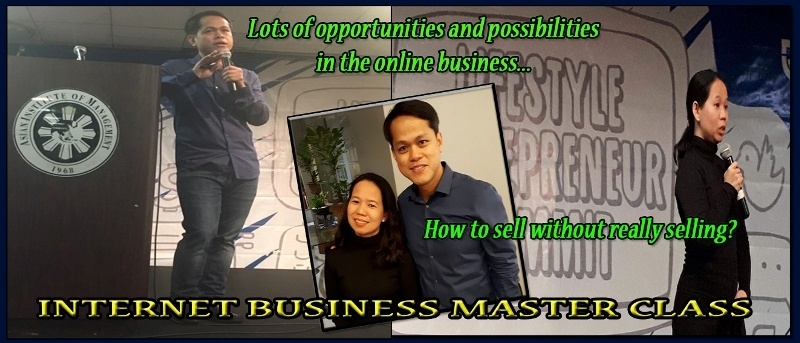 Do you want to see lots of possibilities of earning right from your home with just your laptop, cellphone and internet connection?
​

You can actually do it if you're still employed because your website will just work for you while you're at the office.
​

I'm really not use in telling people my story but, how can I express everything if I will just keep silent, and if my insecurities will just prevail.
​

​​Ok, let me now tell you a little background about me…
​

​Since childhood I would always study prior to the periodical test or quiz and I diligently did all the assignments tirelessly.
​

​​That was my routine from elementary to college. I must admit I'm not a fast learner, I need to study harder to be able to understand the lesson very well.
​I didn't want to have a failing grades dahil sa hirap ng buhay ang bawat piso ay mahalaga. This made me a homebody, an introvert I must say, however I still have good friends in school.
​

​Because of the hard work, I am sometimes included in the honor roll. Yes, my life was quite boring but that was how I spent most of my days until I got used to it.
​

​After passing the Chemistry board licensure examination, I'm very eager to find a good job. I've always wanted to have a salary because I wanted to help my family.
​

​I once told myself back then "Ayaw ko na mag-aral, nakakasawa na. Mula bata ang sipag kong mag-aral."
​

Ang focus ko naman nung may sweldo na ako ay paano hindi maging mahirap para hindi na ako hihingi ng pera sa ibang tao.
Ang alam ko lang naman ay magtipid para makaipon. And this exactly what I did, I saved money and back then I never knew that I was also kind of doing an investing.
​

​Now, I'm a corporate employee for 17 years. Oh better to say "feeling debutant" haha because I'm turning 18 years in service this coming April 16, 2018.
​

​So what's the point of telling you this short background of me? Wait, konek konek yan mamaya. Para may excitement dapat medyo binibitin.
​

The next story that I'm about to tell you is still connected with my journey of achieving financial freedom.
My husband and I keep on searching for passive income because we both have the same goals.
​

It's not only about having millions of money, there are so many reasons behind those goals.
And the reasons behind it were the ones that kept us on doing what must be done to make our purpose happen.
​

Let me reminisce the past and let me touch your heart with my story. I hope you will get inspired after reading it.
​

I'm very vocal of saying that I'm a woman who makes things happen. Better to say "What Cynthia wants, Cynthia gets".
​If I really wanted something, I will do everything to have it. I'm not merely talking of material things here.
​

I'm not a person who keeps on buying material things anyway. I don't shop at malls, rather I shop on different kinds of investments.
​

Okay so much for that let me now continue…
​

Back in April 2017, I saw the facebook ads of Jon Orana. It gotten my attention and I immediately clicked on the link.
It was about online business and digital products that focuses on how to make an eBook.
I got interested because this would mean having another source of passive income.
​

His webinar was all about how to make an eBook and how to earn from it. I'm not a writer and worse I'm not even good in english, eversince.
​

I love Batibot more than Sesame Street. I love the Manang Bola segment "perlas na bilog, wag kang tutulug tulog".
​

I was a fan of the Tagalog pocket books written by Helen Meriz than English pocket books like Sweet Dreams & Mills and Boon.
I can finish reading one Tagalog pocket book in just one day during my high school days.
​

But why did it catch my attention? It was because, I thought that this man knows a lot about the online marketing strategy.
​

Jon Orana got me already, although that was my first time to read and get to know him.
I never even searched for his background before deciding to avail the Internet Business Master Class (IBMC) program.
​But just to give you a profile of Jon Orana:
Ok let me continue again…
​

From November 2016 to January 2017, I sold bags online and I earned ₱30,000.00. Thus, I knew there's a big potential in the online business.
​

But why from selling bags to writing an eBook? Again, because I want to know the online marketing strategy,
I don't want to sell anymore by sending photos of bags to my friends. I want them to visit my website instead, and kaboom! That's it, no hard selling.
​

Here comes the webinar. It was 8 sessions done once a week during weekends. That was 2 months of listening for almost two hours every session.
​

After the first session the Jon Orana then, became Coach Jon Orana that is how I addresses him now.
We have our teachers in elementary and high school, professors in college and now what I have are coaches and mentors.
​

OMG, I found myself studying and learning again.
​

After attending the webinar I had this little bit of procrastination because the hardest part of it is the execution.
​

I got amazed when my friend Dhaezie Bullos (like me she is an IBMC graduate, batch 13) launched her website and free eBook. I wondered how she did it so quick.
​

On June 1, 2017, this was when I decided to be focused and determined to start working on what I have learned from Coach Jon's webinar.
​

If my friend Dhaezie did it, why can't I?
​

Came July 19 2017, I've launched my website, https://www.thefullermind.com and my free eBook "The Fuller Method Learn To Grow Your Money Exponentially".
This eBook is for beginners or for those with zero knowledge in the stock market investing.
​

But wait, I said I'm not a writer. How I was able to write an eBook?
​

Since I enrolled in IBMC there's a sudden change in my life which I never thought it would be happening and I couldn't even believed and imagined that I can do something which I've never done before.
Grabe pwede pala, there's a truth in the saying "Nothing is impossible".
​

This is now my typical day.
​

I make my day fruitful and productive even on a holiday.
​

I chose not to watch TV except for those that make me laugh out loud like The Pilipinas Got Talent. We need to be happy and I find this show my stress-reliever.
​

So, now what's the catch? The introvert woman and an ordinary employee who stays in the four corner of the laboratory is now becoming an extrovert. It was a 360 degree turn.
​

IBMC brings out something within me. Indeed, feeling the excitement to discover new things within me.
​

I believe that there's always a right time for everything. I am already in my 40s when I discovered I had an inclination in writing.
​

Writing is like drawing, the author and the artist must be inspired to be able to write & draw, respectively, what their mind speaks.
​

Writing is something that I could have never imagined, can turn into one of my hobbies that surprisingly gives me the feeling of utmost fulfilment & satisfaction, same feeling I get when I finish one of my drawings.
​

I have a note wherein I listed every accomplishment I made and I called it "The Fuller Mind's Diary".
​

To share with you, here's something great that happened to me again…
​

​​

First, I was chosen by Coach Jon to be one of his guests and be featured on his facebook page NEGOSYO UNIVERSITY with more than 135,479 followers, as of this time.
I felt grateful for this one. I've never imagined again that I will be given this opportunity.
The voice of The Fuller Mind will now be heard by lots of Filipinos all over the world because Coach Jon Orana had already positioned himself in the international market as well.
I was lucky to be given the chance to have this facebook live interview last December 22. 2017.
As of this writing, this interview has 166,343 views, 158 shares and 2300 likes already.
This means 166,343 Filipinos gotten to know The Fuller Mind & Cynthia Fuller as well.
Wait there's more…
Second, Coach Jon Orana gave me another chance to speak in front of almost 500 attendees last January 20, 2018 in his Lifestyle Entrepreneur Summit. It's I guess a 7-minute impromptu speech.
After the summit there were few who approached me and took a photo with me.
I received messages generally saying "Thanks for being one of our inspirations".
​

Hey! There's more…
As of this writing, I'm already working on publishing my first book The Fuller Method To Investing In The Stock Market (A Beginner's Step-by-Step Guide To Successfully Investing In The Philippine Stock Market).
​

I wrote this blog also because this is my way of saying "SALAMUCH" to Coach Jon Orana. IBMC is one of the communities that can help a lot of aspiring online entrepreneurs.
Aside from eBook, I've discovered that I can also make my own webinar or I can be a web designer. There are lots actually; these are just few of the many in the online business.
This is not known by many people. So, I am writing this also to let you know that there are lots of POSSIBILITIES and OPPORTUNITIES in the online business.
​

But, you have to take action also. How can you achieve something if you won't put everything you learned into action?
Remember, learning is a continuous process but learning without implementing or applying is like holding grains of sand because it will just slip away from your hands.
I am also thankful to all the IBMC graduates because they keep on inspiring one another. There's no room for negativity.
​

IBMC members are just really great, I'm happy that I belong in this growing community, that's full of successful people who are very much willing to help.
When I joined IBMC it helped me change my mindset and discover the real essence of achieving financial freedom.
Hindi pala ito makaraket lang, pwede na. Tama ang sinasabi ng mga books, discover your passion and from your passion you're going to earn from it.
Give and help other people first then money will come next.
Learning is a continuous process. I found myself reading books again. Just from January 1 to February 5 2018, I've finished reading three books already. It exceeded my commitment of reading one book per month.
Discovering new things within yourself is another cycle that proves that each one of us has so much talents.
The only thing we need to do is to hone it, because God gifted those to us to help other people.
Now, here are the few steps for you to take action and give yourself a try to a "360 degree turn".

Helping people is one of the advocacies of The Fuller Mind. It promises to share knowledge and inspire more Filipinos.
​

Likewise, you may click the photo below to watch a little portion of my 7-minute impromptu speech.
This is what you can exactly discover from watching this video:
Comments
comments